NEW RELEASE, :BECOMING YOUR DREAM" IN ALL ONLINE STORES
NEW BOOK: BECOMING YOUR DREAM
BECOMING YOUR DREAM IS THE STORY OF MY LIFE. IT IS INSPIRATIONAL, PROPHETIC AND MOTIVATIONAL. A BOOK TO READ AND BE READY FOR A MIRACLE. WHEN YOU THINK THAT ALL IS LOST, THAT MAY JUST BE THE RIGHT TIME FOR A TURN AROUND IN YOUR LIFE. BELIEVE IT, SEE IT, AND TAKE ADEQUATE STEPS TOWARDS THE DREAMS OF YOUR HEART. YOUR FUTURE CAN BE RESTORED, RECREATED,AND REGAINED.

ORDER COPIES TODAY. www.amazon.com
or www.holy fire publishing.com
WORLD VISION INTERNATIONAL WORSHIP CENTER
WE ARE A MINISTRY WITH A HEART FOR THE AFFLICTED AND THE OPPRESSED IN LIFE. WE BELIEVE THAT JESUS CHRIST CAME TO SEEK AND TO SAVE US FROM THE POWER OF SIN AND THE CONSEQUENCES OF SIN.
PARTNER WITH US TO ENABLE US TO REACH OUR WORLD WITH THE LOVE OF JESUS CHRIST.
WE HAVE A HEART FOR THE NEEDS OF AFFLICTED CHILDREN AROUND THE WORLD.
GET A COPY OF MY NEW BOOK, "BECOMING YOUR DREAM", www.amozon.com.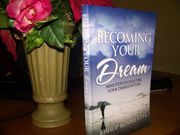 PRAY WITHOUT CEASING
1. PRAY FOR THE OUTPOURING OF THE HOLY SPIRIT IN THE YEAR 2010 FOR AN UNCOMMON WORLDWIDE HARVEST OF SOULS.
2. PRAY FOR NEEDY CHILDREN AND AND ORPHANS THAT ARE IN NEED OF SCHOOL FEES,MEDICAL ASSISTANCE AND FEEDING
3. PRAY FOR ALL THOSE WHO ARE INVOLVED IN MISSIONS, AND EVANGELISM.
4. PRAY FOR THE WORLD VISION INTERNATIONAL WORSHIP CENTER, FOR UNCOMMON FAVOR FOR 2010.
5. PRAY FOR THE BOOK, "BECOMING YOUR DREAM", WILL REACH THE ENDS OF THE EARTH AND TRANSFORM BILLIONS OF SOULS.
My Contact Information
Links to Other Sites